In the month September, over twelve years removed from the tradgeies of that fateful September morning, I would be remiss not to highlight the momentous efforts of concerned citizens from around the world. We united to raise enough money to place a huge billboard in Times Square for the entire month of September, informing over a million citizens from around the world of the third tower that collapsed in NYC that afternoon every day this month.  Please learn more about this incredibly successful demonstration of goodness and leadership in the name of Truth and Justice by visiting www.rethink911.org. For those still thinking that 9– Truth Movement will be stopped or ignored, I believe the weekly recap from my CBS Sports Fantasy Football League should be considered an omen. This game was against my best friend and you should quickly be able to discover who is who by the team names in the very first line. Oh the irony is precious………
I'm off to enjoy a great weekend with all my siblings in one of the coolest places on earth………Athens, GA. I hope you all have a equally awesome weekend with your loved ones.
Enjoy……………
EASY STREET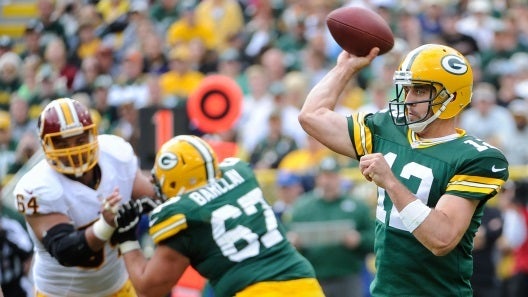 Photo by USATSI
Aaron Rodgers helps 9/11 TRUTH NOW!!! cruise to victory
9/11 TRUTH NOW!!! sent u cant beat me crying home to mommy after a thorough 109 to 74 spanking. The 35 points separating these teams made it this week's biggest blowout.
The win brings 9/11 TRUTH NOW!!! back to even at 1 – 1. The loss drops u cant beat me's record to 0 – 2.
Coach Daniel Bland III used their first pick on Aaron Rodgers, and Rodgers came through. Rodgers joined up with the Patriots Defense/ST to score 56% of 9/11 TRUTH NOW!!!'s points. Rodgers contributed a 43 point performance, which topped all but one player this week.
In addition to Rodgers and the Patriots, 9/11 TRUTH NOW!!! had two other good players this week in Blair Walsh and Matt Forte.
U cant beat me had many underperformers, but Tom Brady stood out, recording 13 points.1 Brady, dealing with a completely decimated WR core, completed less than 50% of his passes for the first time since 2009. U cant beat me also had to deal with a poor effort from Andre Johnson (9 points below expected).
Finally, u cant beat me had to deal with a dearth of big performances. Jamaal Charles's 15 point effort was the best they got.
Coach Bland III might have gotten the victory this week, but it wasn't due to their efforts. Perhaps scared off by Mike Wallace's 1 point performance last week, Coach Bland III left him on the bench in favor of Antonio Brown, despite the experts' prediction that Wallace should have played. This terrible decision cost 9/11 TRUTH NOW!!! a total of 12 points, which–thankfully for Coach Bland III–didn't matter much this game.
Next week, 9/11 TRUTH NOW!!! will be playing Tossed. The matchup will feature the two top QB's in the league, as Aaron Rodgers meets up with Peyton Manning. As for u cant beat me, they will match up with Smell My Finger next week.